There is certainly no shortage of ways to have a fun day or weekend in Macau. Most of the time it also means spending a lot of money on Michelin-star dining, luxury hotel accommodations, high-end shopping and more. However, having fun doesn't always come with a hefty price tag. Spend a weekend in Macau and explore the city without breaking the bank with our budget guide.
Where to Relax and Enjoy the Greenery
For such a small city, Macau has an abundance of public parks which translates to wallet-friendly. Head to Camões Garden, the largest park in the city named after the renowned Portuguese poet Luís de Camões. The park is divided into three sections, including an exhibition building, and luxuriously wide-open spaces that are a relief from the surrounding alleyways and streets.
Lou Lim Ieoc Garden is another oasis in the city center. The garden is hidden behind high walls and with its small winding paths and abundant vegetation, it provides a quiet setting to relax and cool down, even during the mid-summer heat. São Francisco Garden is another great option, especially because it is almost silent, even though it's surrounded by the city center and its noise and crowds. It stands right behind Clube Militar, boasts a children's park and quiet areas where one can read a book or take a quick nap. On the other side, Seac Pai Van park also comes to mind when a relaxing and free activity is what you need. Beware of mosquitoes, though! These are nice areas for people watching–which is free and definitely on budget–and exploring different walks of life that populate Macau. You can also sit on a bench in Senado Square and try to guess where people are from.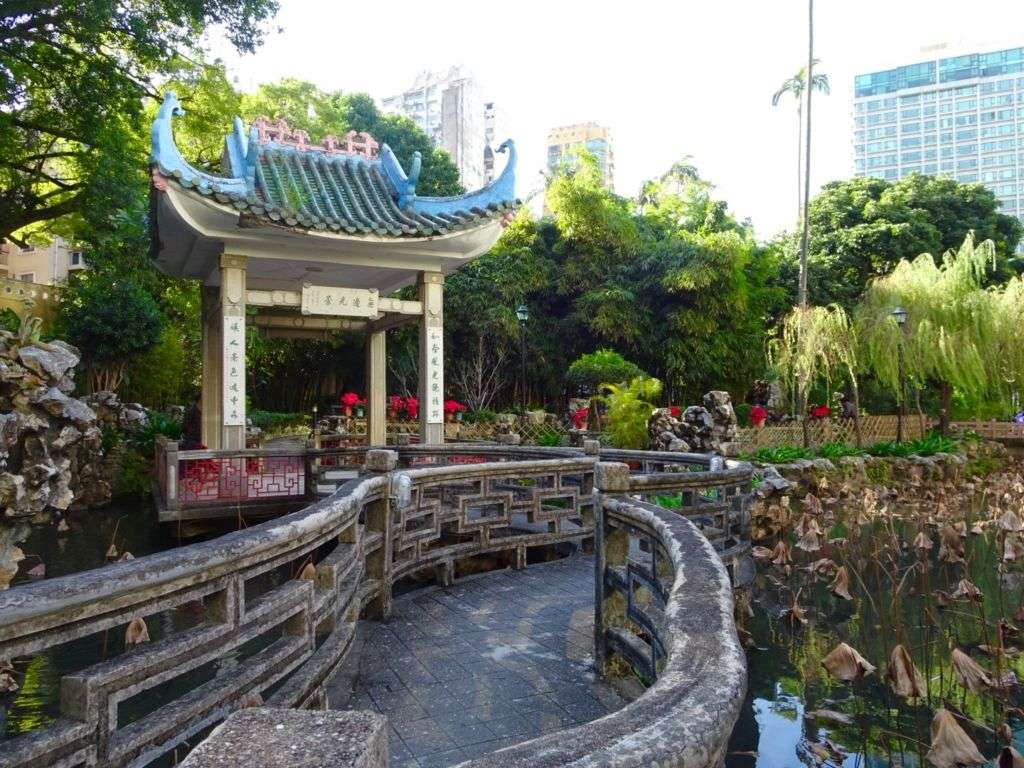 Urban and nature hiking
From the central square, you have several options for urban hiking including a walk to the south for D. Pedro V Theatre, St. Lawrence Church, Lilau Square, and beyond to Barra and A-Ma Temple. Head north and up the hill to the Macau Museum which is itself worth seeing from Mount Fortress on the hill overlooking the city spread out below. You can also walk west to the Inner Harbour area for a serene stroll but one of our favorites is a walk up to Penha Hill. The long sweeping roads make for an easy walk and the view from the top of the Chapel of Our Lady of Penha is simply gorgeous. On a clear day, you can see all the way up to Taipa, Zhuhai and the rest of Macau.
A family-friendly environment, Nam Van Lake is popular for those with children. There are several cafes and shops lining the edge of this iconic lake that defines the eastern edge of the Macau peninsula. Anim'Arte at Nam Van also regularly organizes art exhibits and other events, both for kids and adults.
Nature-wise, there are also cool and simple activities that won't burst your "explore Macau" budget! Head to some of Macau's hippest hiking trails, which are located in Taipa and Coloane. If you are looking for great views, start at the Coloane Trail, which is the longest dedicated walking trail in the city, stretching for more than eight kilometers in a circle around the hills of Coloane. The Small Taipa 2000 Circuit is also an option and the beautiful view includes Macau side and some parts of Taipa. Taipa Grande Natural Park is not for the weak of heart because it's steep and long, but definitely worth your while! Take your time in this unique place and, if you are lucky enough, you might just find the perfect sunset to appreciate, reflect and, of course, photograph! Read about Macau's best sunset spots here.

Getting Around
Macau is an incredibly walkable city. Most interesting areas are within a short walking distance from each other. Besides, it's free and a great way to explore the city. We can't tell you how many times we walked to our destination only to discover a previously unknown café or interesting shop along the way.
The casinos and resort hotels run free shuttle buses between various locations, including the ferry terminal, airport, the Zhuhai-Macau border, Hotel Lisboa, and other locations on the peninsula and in Cotai. If you plan your time well, you can make use of the free bus and get quite close to where you are going. That's one smart move for any thrifty traveler.
Not a fan of walking? What about cycling? Macau might look like a gaming-driven place, but it has some (well) hidden gems. One of them is bicycle renting. While most people think the city can only be seen by walking, taking buses or taxis, there are some spots where one can rent a bicycle and pedal away. Unfortunately, cycling is not allowed on the bridges, but you can still go from Taipa to Coloane Village that way. Iao Kei Bicicleta and Si Toi are close to Pak Tai Temple in Taipa Village. It costs around MOP $20, so we would say it's a budget-friendly activity. Grand Coloane Beach Resort also rents out bikes! There are also bikes for rent in Coloane Village.

What to Eat
Wherever we are in Macau, we like to stop at the neighborhood cha chaan teng. There is usually one on every block and they are a great way to experience a slice of local life, and prices are very affordable. Menus between various restaurants are virtually identical, with standard offerings of rice dishes, noodles, dim sum, and sandwiches.
One classic dish that's a must-try is minchi–a Macanese staple of minced pork, rice, and diced potato will vary from restaurant to restaurant. If you don't feel like dining in, pack your food and go to one of the parks to enjoy. Another cheap eating option is the snack stalls, specifically fish ball and other skewered offerings. Our guide to fish ball stalls includes common Chinese names of various items and tips on ordering.
Where to Stay
Accommodation is going to be your single biggest expense if you decide to extend your trip to Macau over a weekend instead of one day. Until recently, the city was notorious for lack of budget hotel options, but that has been changing with the influx of visitors and growing demand for affordable rooms. Amongst the cheap hotel options around the city, one interesting place to consider is the SanVa Hostel, located right in the center just a short walk from Senado Square. The rooms are small, there are no private baths, and no air conditioning (just fans), but the old world charm of the building, rooms, and the location are all undeniably convenient. Remember if you're a serious explorer, you'll probably be out and embracing the city's culture all day anyway.
Stay tuned to our Events calendar for the latest information on free entry events and activities in Macau during your visit!
Tags
Related Posts