Boasting an eclectic mix of cultures and traditions, Macau is a vibrant melting pot that is so tempting to dive into. There is hardly another place that can showcase Macau's cultural fusion, and it will take months, if not years, to truly explore the city's cultural diversity. However, if you are limited to one single day in Macau, read our cultural itinerary not to miss the prominent landmarks and get the best of that day in the city.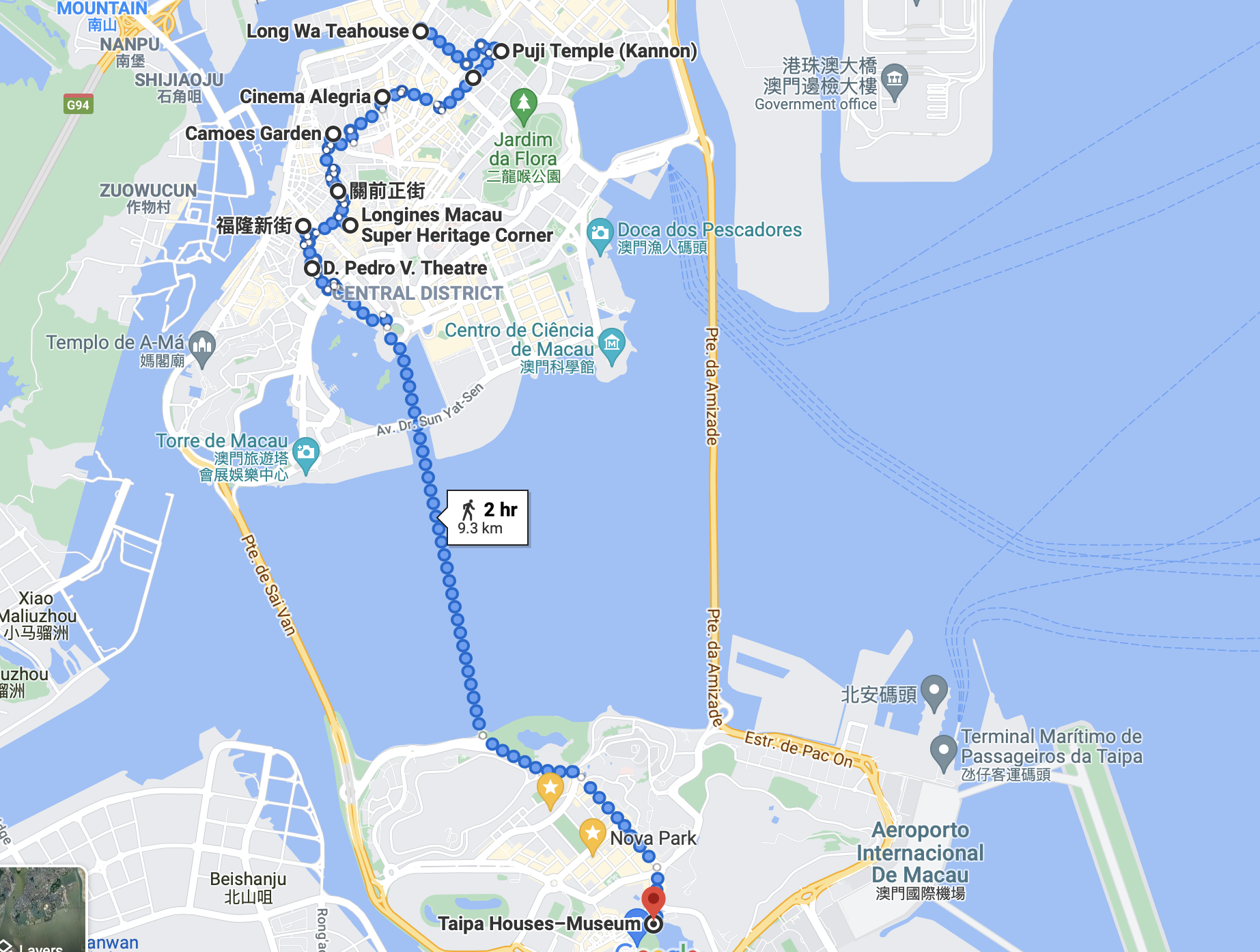 Breakfast: There is no better way to start your journey into Macau's culture than having a Cantonese dim sum breakfast at Long Wa Tea House. One of three remaining traditional tea houses in town offers an authentic gastronomy experience at an affordable price. Choose your tea and pick dim sums to go with it. If you are unsure what to order, ask the staff for help and recommendations. 
Opening hours: Daily, 7:00am–2:00pm
Long Wa Tea House 3 Rua Norte do Mercado Almirante Lacerda, Macau, +853 2857 4456
Also read: Long Wa Tea House: Going Back to the 1960s in Macau
Stop 1: Kun Iam Tong Temple
(See featured image above)
Take Avenida do Ouvidor Arriaga heading South-East until you reach Rua de Pedro Coutinho. Keep walking around 150 meters, and you will see the Kun Iam Tong Temple's facade. Macau's oldest Buddhist temple is also one of the largest, with three pavilions dedicated to three precious Buddhas, the Longevity Buddha, and Kun Iam. 
Besides its spiritual significance, Kun Iam Tong Temple is also an important historic site where the first Sino-American treaty was signed in 1844. According to a legend, the temple's peaceful courtyard was a scene of a local Romeo and Juliette love story that ended a tragedy like Shakespeare's play. Two young souls could not be together and decided to end their lives together. They were buried at the temple, and four trees have since grown from that place, now known as Lovers Trees.
Opening hours: Daily, 7:30am–5.00pm
Kun Iam Temple 2 Avenida do Coronel Mesquita, Macau, www.macaotourism.gov.mo
Also read: Kun Iam Temple: A Tale of Love and War
Also read: Your Ultimate Guide to Macau's Most Beautiful Temples

Stop 2: Cinema Alegria and Lin Kai Temple
Get back to Rua de Pedro Coutinho and walk South for 500 meters. Turn right on Estrada de Adolfo Loureiro, continue on Rua da Barca until you reach Rua da Emenda. Then, turn left and then right on Travessa da Corda, the street that got the name as many neighboring residents were rope- and cordage-braiders (corda means rope in Portuguese). Walk around 100 meters, and you will find two landmarks, one in front of the other–Cinema Alegria and Lin Kai Temple. One is a worship place founded in the 17th century, and another is a historical temple of cinematography. 
Churches and temples of various religions and beliefs peacefully coexist in Macau: a Buddhist or Taoist temple, a Catholic Cathedral, or a Protestant Church. Moreover, it's not unusual to have deities of different religions at one temple. At Lin Kai Temple, there are altars with six Buddhist Bodhisattvas and altars of Monkey King and Ua Kuong, the dark-faced god protecting against fire. 
Founded in 1952, Cinema Alegria, previously known as Teatro Alegria, is the oldest active cinema in town and a fine example of an Art Deco-style cinema. Originally it was the place to screen patriotic films from Mainland China, Russia, Vietnam, and other socialist countries. 
Lin Kai Temple 21–35 Travessa da Corda, Macau
Also read: Travessa da Corda: Alegria Cinema & Much More
Also read: Cinema in Macau: An Ode to Films Back in the Day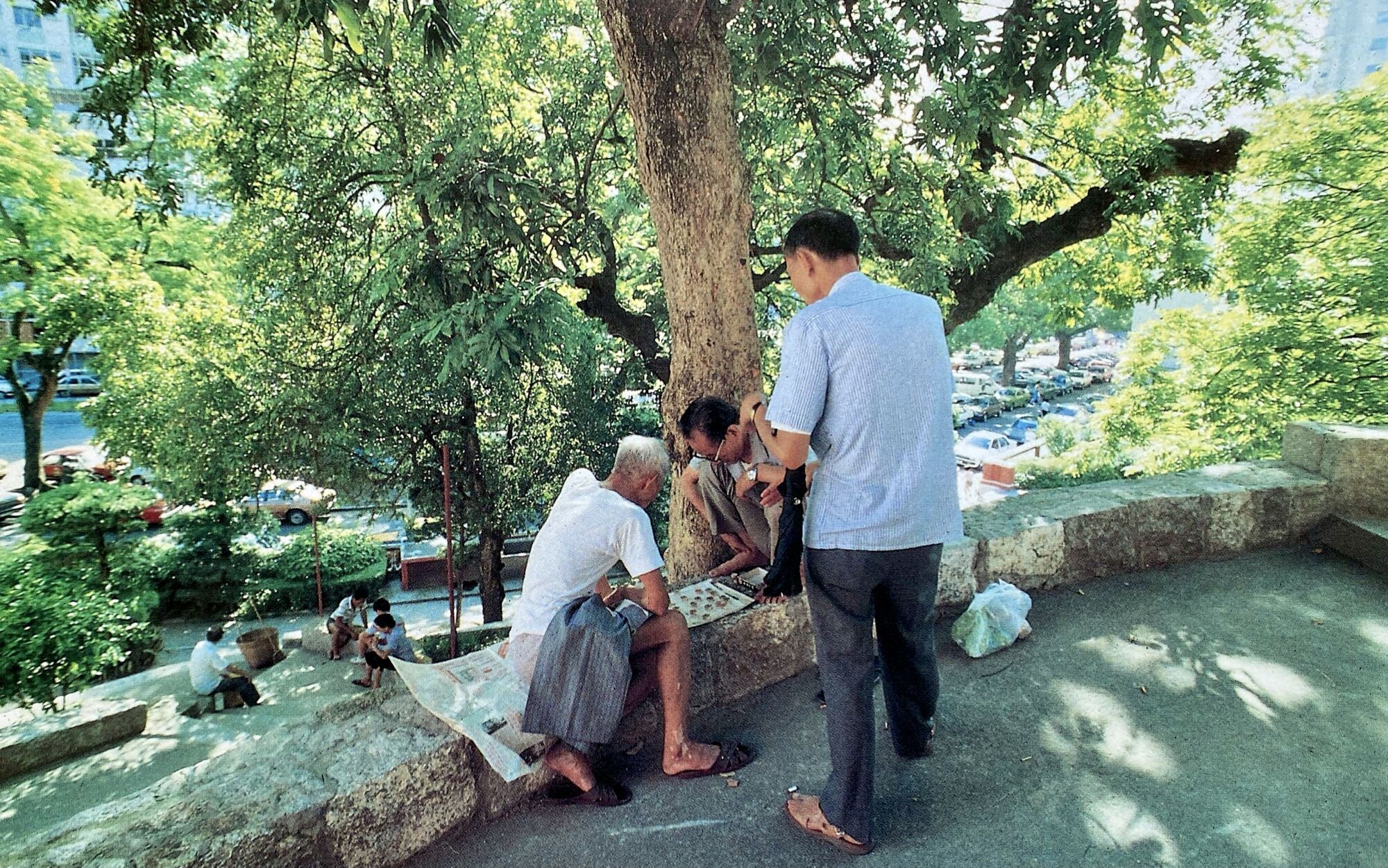 Stop 3: Camōes Garden 
Keep walking on Travessa da Corda towards Rua do Capão, turn left. After, turn right on Rua de Entre-Campos and proceed for 250 meters. Turn left on Rua do Patane, then right on Rua de Coelho do Amaral. Take a slight turn right at Praca de Luis de Camoes to find yourself at the entrance of the eponymous garden. This tranquil oasis with lush greenery, a waterfall, and plenty of spots to rest is an homage to the renowned Portuguese poet who allegedly stayed in Macau. In addition, most researchers claim Camões wrote his masterpiece Os Lusíadas in what we now know as the Camões Garden. There is a grotto with his bronze bust in the garden. 
Apart from that, Camões Garden is a must-visit cultural place to see some of the most interesting Macau traditions. One is mahjong players, whom you can often witness immersed in the exciting Chinese tiled-based game. Another one is the bird "walking." Before walking into the park at the main entrance, look around and you will likely see bamboo birdcages hanging around on the nearby trees. Those are not for sale, as some Westerners might guess. It's just bird owners letting their pets get out in the fresh air. If you are lucky, you might even see the mesmerizing scene of locals practicing tai chi, a Chinese martial art based on Taoist principles and Chinese alchemy. 
Also read: The Camões Phenomena: All the Way From Portugal to Macau
Also read: Popular Macau Traditions: Traces of the Olden Days

Pass by:

Casa Garden
A white and pink mansion next to Camões Garden is a part of the Historic Center of Macau, a UNESCO World Heritage Site, and a monument of the Portuguese and British presence in Macau. Built in 1770, it went from a residence to East India Company headquarters, then war material warehouse, and more. Today it's the place where the Orient Foundation hosts events and exhibitions. 
Opening hours: Casa Garden – Daily, 9:30am–6:00pm
Casa Garden 13 Praça de Luís de Camões, Macau, +853 2828 6666
Also read: Casa Garden: Home for Counts, Merchants & the Orient Foundation

Stop 4: Macau Protestant Chapel and Old Protestant Cemetary 
On the right from the garden's entrance, you will see a charming white church with an adjacent cemetery. This is Macau Protestant Chapel, aka Morrison Chapel, after Robert Morrison, the first man to write a Chinese-English Dictionary and translate the Bible into Chinese. The chapel was initially founded in 1922 to serve the needs of East India Company traders. Notably, the burial ground next to it appeared even earlier, in the late 19th century, as a much-needed last resting place for protestants. In 2005, it became part of the Historic Center of Macau, a UNESCO World Heritage Site.
Opening hours: Protestant Cemetery – 8:30am–5:30pm; Protestant Chapel – 8:00am–5:30pm
Protestant Cemetery 17–29 Praça de Luis de Camões, Macau, macaotourism.gov.mo
Also read: Macau Old Protestant Cemetery: Where Great Minds Rest

Pass by: Rua dos Ervanários 
Via Largo de Santo Antonio, get to Rua de Santo Antonio and walk 140 meters. Take a slight right on Calcada do Embaixador and turn right to stay on it. Then, turn left on Rua de Tercena. After that turn right on Travessa da Dorna. In 10 meters, Rua dos Ervanárious will be on your left.
A short street, Rua dos Ervanários has so many cool shops and little cafes. But most importantly, it is one of Macau's oldest streets that gives you a glimpse of what the city was like centuries ago. In the past, the street was the border between Portuguese and Chinese communities and the trading location for both. Today, traditional incense, Chinese New Year paraphernalia, antique, and jade shops stand between trendy coffee shops and eateries, making Rua dos Ervanários one of the most eclectic and worthy of visiting streets in the city.
Also read: Rua dos Ervanários: Old Macau is Around the Corner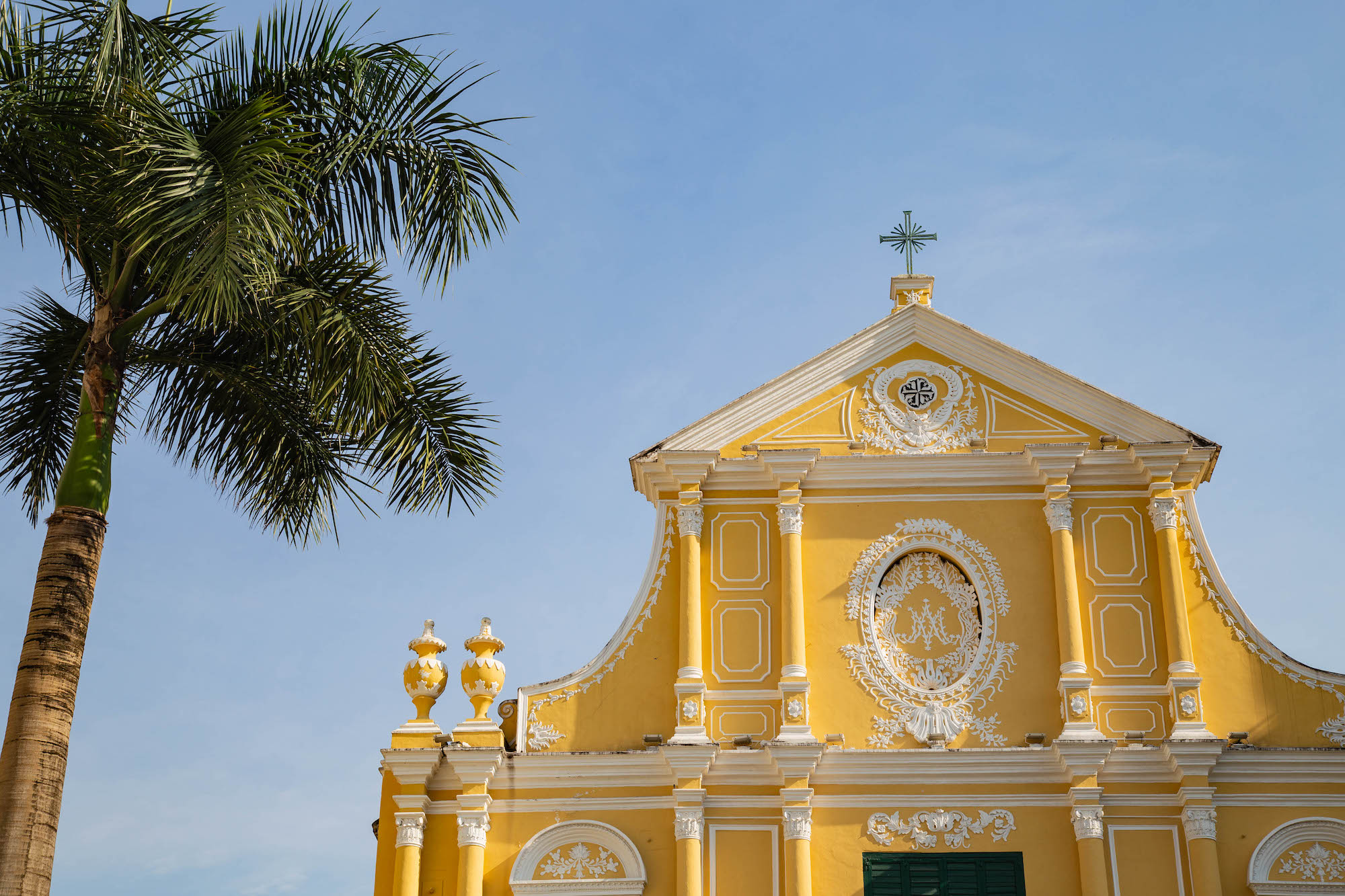 Stop 5: St. Dominic's Church 
When you pass Pace Coffee at the end of Rua dos Ervanários, get to another historical street of Rua dos Mercadores and keep walking until you reach Travessa do Soriano, paved with unmistakable Portuguese cobblestone. Turn right and walk a few steps to find yourself in front of a bright yellow church. One of the most recognizable landmarks of Macau's city center, St. Dominic's Church, was established by Spanish Dominican priests in 1527. In the early 17th century, the church was reconstructed and got its Baroque-style architectural design. If you are interested in Catholic art, visit the small Treasure of Sacred Art Museum inside the church. 
Opening hours: 10:00am–6:00pm
St. Dominic's Church St Dominic's Square, Macau, +853 2836 7706
Also read: 10 Beautiful Catholic Churches in Macau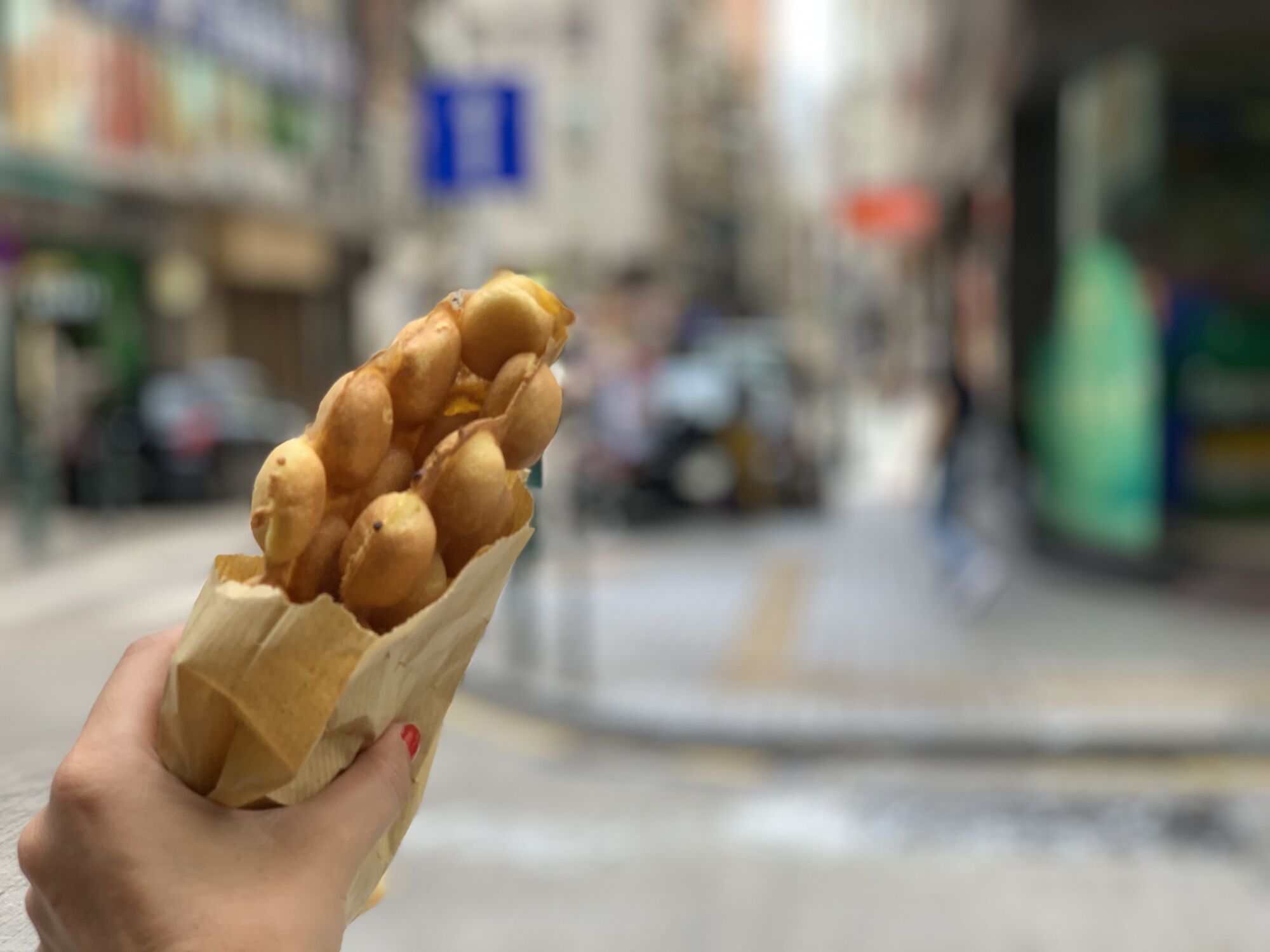 Lunch: Once you are in the Senado Square area, take a chance to explore the exciting world of Macau's street food. From fishballs to almond cookies, round waffles, and special Senado cookies, there is so much to try. If you feel adventurous, try the famous durian ice cream!
Also read: Macau's Best Street Food
Also read: Senado Square's Best Street Food

Pass by: Rua do Felicidade 
Walk back to Rua do Mercadores and cross the road. After, walk straight until you reach Hua do Felicidade. Not every landmark is associated with pleasant events, yet they can be an essential page in a city's history and cultural heritage. One of such places is Rua do Felicidade, a street known as Macau's ex-red light district. It became a cultural hub in the 19th century, when brothels, opium shops, gambling stalls, and tea houses flooded the street. Restaurants and souvenir shops replaced questionable establishments, making this street popular among tourists looking for traces of the old days in Macau. Rua do Felicidade's shameful essence is no longer there, and only the historic facades with iconic green and red blinders remain. 
Also read: Rua da Felicidade: From Red-Light District to Hip Spot

Stop 6: St. Augustine's Square
Walk southeast on Rua do Felicidade and turn right on Rua dos Cules. Take the next left on Calcada de Gamba and proceed until Largo de Santo Agostinho (St. Augustine's Square). Without a doubt, this square is among Macau's most beautiful, with a mind-blowing number of cultural landmarks. No wonder it is also a UNESCO World Heritage Site. So expect to spend at least half an hour exploring its wonders on your Macau day trip or cultural walk. 
The first building you'll probably notice is the neoclassical St. Augustine's Church founded by Spanish Augustinian priests in 1591. Across the road, there is China's first Western-style theatre built in 1860, Dom Pedro V Theatre. This theatre has gone through peaks and valleys from the performing arts center, cinema, and ballroom to a refugee shelter and a termite-infested building. Luckily, it went back to its original mission after the major renovation in 1993.
Among other notable landmarks on St. Augustine's Square are Sir Robert Ho Tung Library and St. Joseph's Seminary and Church. Another church not to miss nearby is St. Lawrence Church, dating back to the mid-16h century. 
Also read: A Guide to St. Augustine's Square
Also read: Dom Pedro V Theatre: China's First Western Theater

Stop 7: Taipa Houses and Taipa Village 
Take one of the buses that go to Taipa. The easiest way would be to walk towards one of the main bus terminals, Ferreira do Amaral Plaza and take bus 33 to take you to Taipa Village. Get off the bus on Rua do Cunha and follow the street signs towards Taipa Houses Museum, a unique spot and a demarcation between old and new Macau. Five green neoclassical houses represent the Portuguese influence in Macau. They were built in 1921 as residences for high-rank officials and Macanese families. Nowadays, they serve as a museum hosting art events and exhibiting historical artifacts from the bygone era. Across the pond from Taipa Houses, you will see the Cotai strip with colossal casinos, the land that was not even there before the 1990s. Can you imagine Macau was once a quiet town with low-rise houses? 
Opening hours: Tuesday–Sunday, 10:00am–7:00pm, no admittance after 6:30pm
Taipa-Houses Museum Avenida da Praia, Carmo Zone, Taipa, Macau, www.icm.gov.mo/en/housesmuseum
Also read: An Insider's Guide to the Taipa-Houses Museum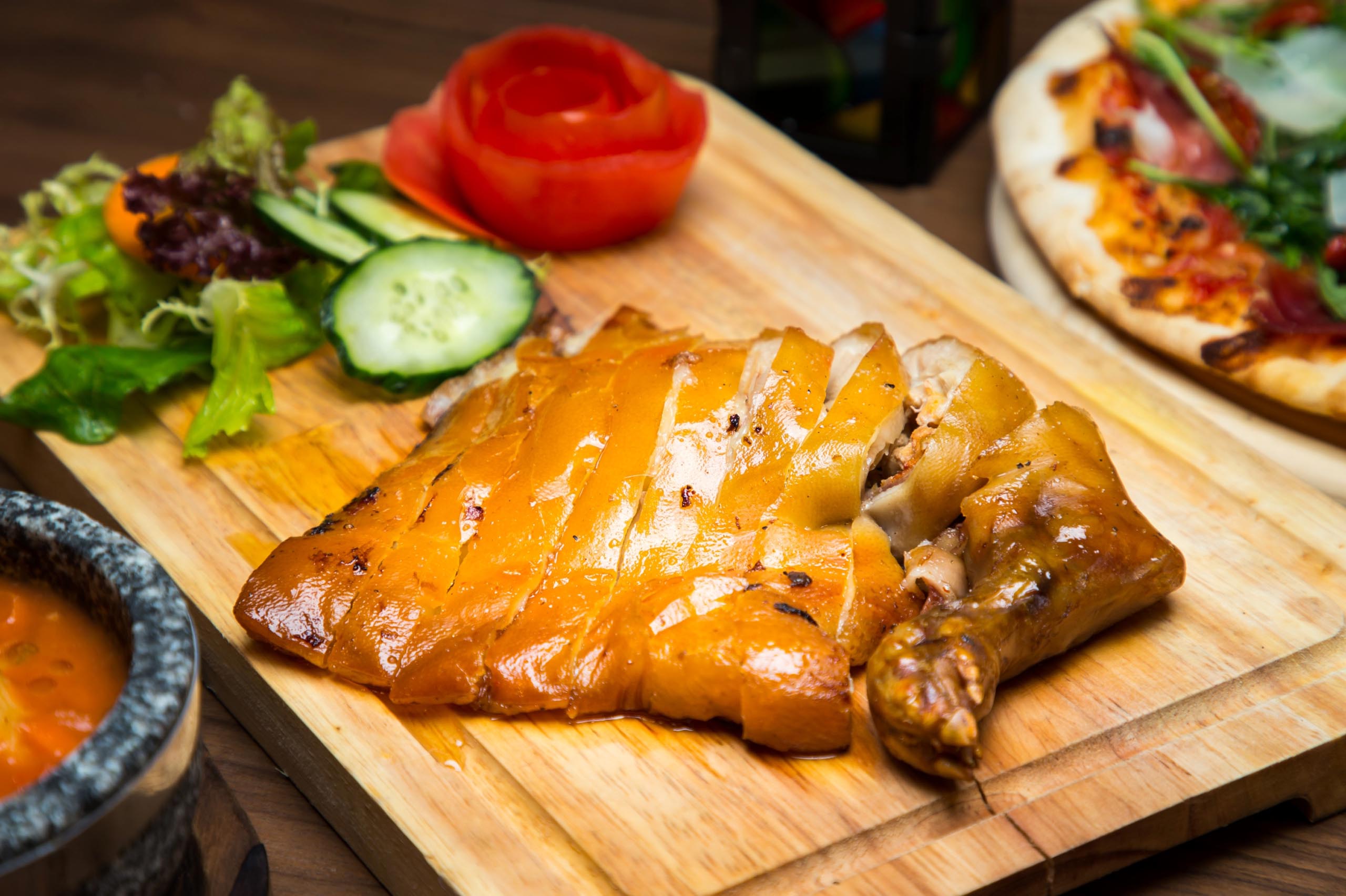 Dinner: Conclude one cultural day in Macau with an equally compelling dining experience. To dive into Macau's gastronomy, head to one of the Macanese cuisine restaurants to savor local specials. We recommend La Famiglia. As the name suggests, it's a family-style and family-run cozy restaurant with the best Macanese and Portuguese cuisine has to offer. Try their minchi, Portuguese suckling pig, African chicken, and don't forget to order serradura, a Portuguese dessert with whipped cream and crumbled biscuit. If you feel like your legs still have some strength to walk you somewhere else, have a drink at Goa Nights or Old Taipa Tavern. 
La Famiglia 2830 Rua dos Clerigos, +853 2857 6131
Also read: A Magical Macanese Menu at La Famiglia by Chef Florita Alves
Also read: Best Places for Macanese Food in Macau
The best time to visit
End of May–June: Dragon Boat Festival
Among Macau holidays and traditions, Dragon Boat Festival must be the most exciting one. The celebration is held annually in honor of Qu Yuan, the ancient poet who drowned himself to protest corruption. The main event is the International Dragon Boat Races, a colorful tradition with more than 2500 years of history. 
Mid-October: Lusofonia
A festival that celebrates lusophone culture is held for three days and takes place at Taipa Houses. With music and dance performances, gastronomy events, games, and other happenings that show the diversity of Portuguese-speaking countries, this festival is one of the most fun events in town. Locals flood Taipa Houses roaming between caipirinha stalls and the main stage, drinking, dancing, and watching performances. 
November-December: Macau Food Festival
Macau is a designated Creative City of Gastronomy by UNESCO. If you are a foodie, try planning a trip around the annual Macau Food Festival near Macau Tower. The best food establishments open their stalls to present delicious food and drinks, such as grilled seafood, noodles, pho, curries, and so much more. You just need to arrive hungry!
Tags
Related Posts