Being a UNESCO city of creative gastronomy, Macau is rightfully a dream destination for many lovers of food. From the world's first fusion cuisine (Macanese food) to street food and fine dining restaurants, it offers a plentitude of spots to indulge yourself. So one day is hardly enough to explore the abundance of Macau's gastronomy. However, if that's all you have, we will definitely not judge you for dedicating it to the city's diverse gastronomy. We only have one important tip: get ready to eat a lot! Check our one-day in Macau itinerary for foodies and take notes.
Stop 1: Cha chaan teng
breakfast at Hon Kee Café
Is there a better way to start a long day of adventures than enjoying a tasty breakfast in a tranquil spot away from the hustle and bustle? Add a pinch of local flavor to that experience, and you will get Hon Kee Café, a humble eatery in Coloane. Basically a small wooden hut with tables and benches outside surrounded by large trees, Hon Kee Café is popular among locals who prioritize quick service and low prices to variety and exquisite gastronomy. The kind of place that serves cheap and straightforward dishes with tea or coffee is known as cha chaan teng. It originated in Hong Kong and gained popularity in its sister SAR too. Even though restaurant chains have been pushing these traditional eateries out of the market, you can still find some of them and experience the good-old-days vibe of cha chaan teng in Hong Kong and Macau.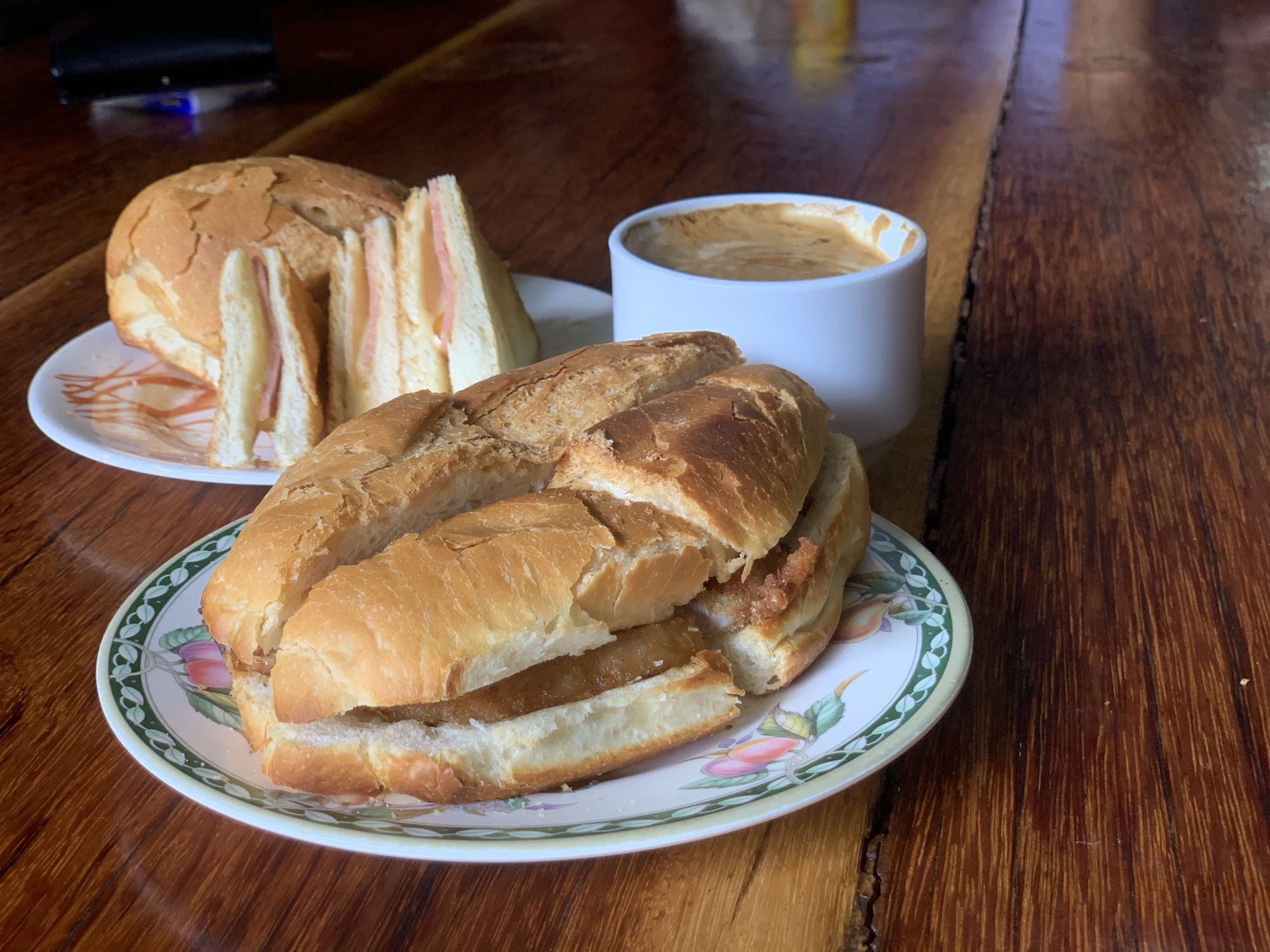 First and foremost, order their famous coffee with milk, hand-whipped by the owner, Ah Hon. Yes, it's instant coffee, but don't turn your nose up on it and give this drink a try. Ah Hon claims that it takes over 400 whips to achieve the necessary smoothness and richness. As for the food, the menu here is short but sufficient. Opt for a fried egg sandwich, peanut butter, or cheese and butter toast, or order a more substantial bowl of noodles.
The best way to get to Hon Kee Café is by taking a 26, 26A, 21, or 50 bus to Coloane Village. Then, find Estrada de Lai Chi Vun, the road that goes along the coastline to the North-East. Pass the shipyards, and the first cafe on your left is Hon Kee.
Hon Kee Merendas de Lai Chi Vun Park, Coloane, +853 2888 2310
Also read: Best Breakfast Spots in Macau to Eat Like a Local
Also read: Hon Kee Café: A Taste of True Coffee in Coloane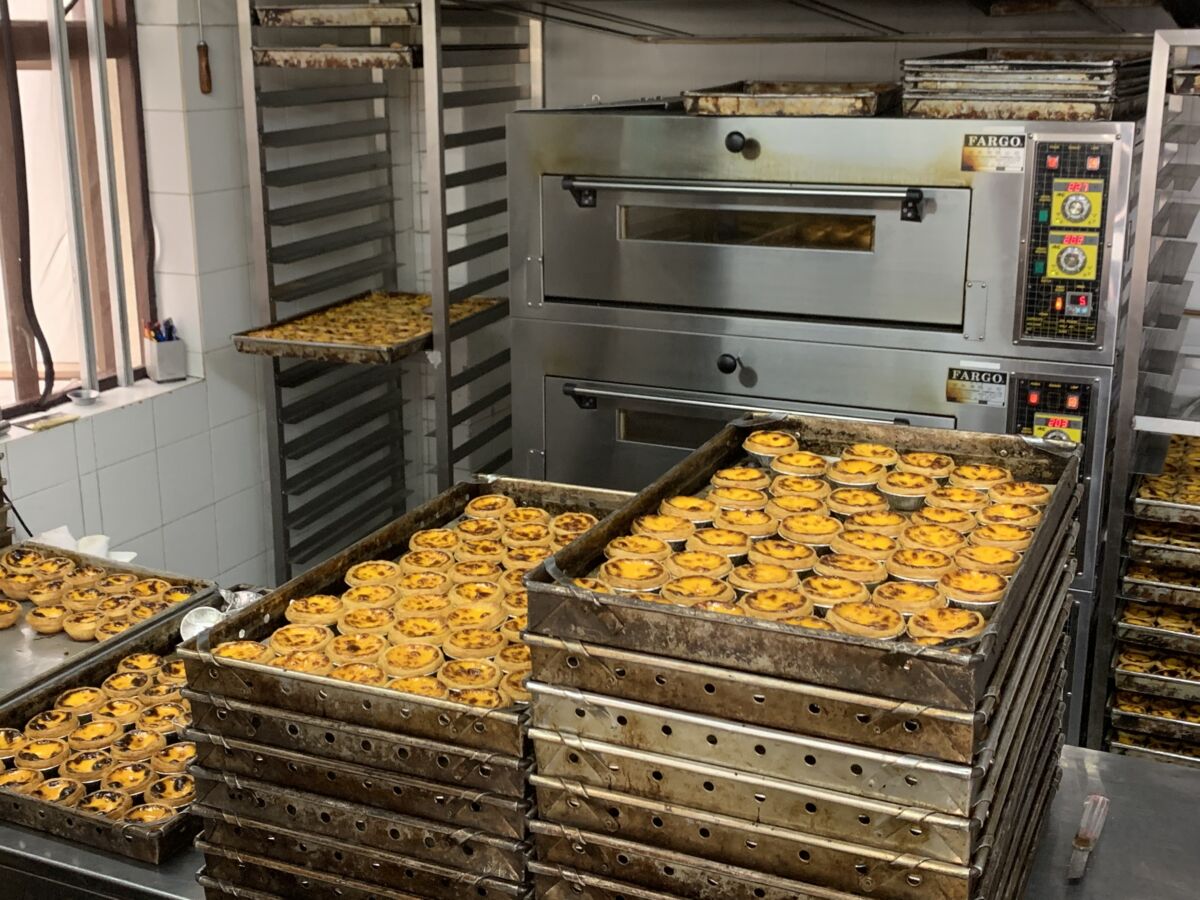 Stop 2: Iconic Portuguese egg tarts at Lord Stow's Bakery
When you are done with breakfast, direct your steps towards the heart of Coloane Village with its most well-known destination, Lord Stow's Bakery. It won't be hard to find–just look for a long line of visitors willing to taste the world-renowned pastry created in Macau. Of course, the original Portuguese egg tart comes from Portugal (duh!), not from Macau. Yet it was an Englishman, Andrew Stow, who founded Lord Stow's Bakery and turned this pastry into the city's sweet symbol and a sought-after item among tourists. He slightly modified the original recipe making the Macau egg tart less sweet, flakier, and filled with softer custard. Hence, don't hesitate to join the line of eager foodies. While waiting for one or several freshly made egg tarts, admire the baking process happening at the shop in front of the customers.
Lord Stow's Bakery 1 Rua do Tassara, Coloane Town Square, Macau, +853 2888 2534, www.lordstow.com
Also read: Where to Find the Best Portuguese Egg Tarts in Macau
Stop 3: Rua do Cunha's pastries in Taipa Village 
After getting acquainted with Macau's egg tarts, take a bus from the stop two meters away from the bakery, towards the direction of Taipa. Find your way to its oldest part with narrow alleyways filled with gastronomy wonders, Taipa Village. Once there, you won't have a problem locating the street frequented by tourists called Rua do Cunha. It might be overwhelmingly crowded and loud. But if you know what exactly to look for, the distracting factors won't scare you away. And the spot you should search for first is Pastaria Fong Kei, a bakery with over a century of history and a mention in the Michelin Guide Hong Kong Macau. Although they sell mostly local specialties, their signature one is the pork-flavored biscuit. Notably, since they started, Fong Kei's pastries have always been handmade. 
Also read: A Tour of Traditional Chinese Pastries in Macau
Those traveling on a budget will love that the generous shop attendants here will be happy to give away a free sample of the items on sale to lure you into buying an entire box of cookies or a bag of buns. Don't hesitate to take advantage of that and taste some of Macau's typical snacks, from almond cakes and egg rolls to meat jerky. 
Don't just pass by the colorful shop covered with menus and signs called Gelatina Mok Yi Kei. Mentioned in Michelin Guide Hong Kong Macau, they are known for their durian ice cream, agar jelly, and serradura, a Portuguese dessert popular in Macau. 
Also read: Mok Yi Kei: A Cornerstone of Streetfood Culture in Macau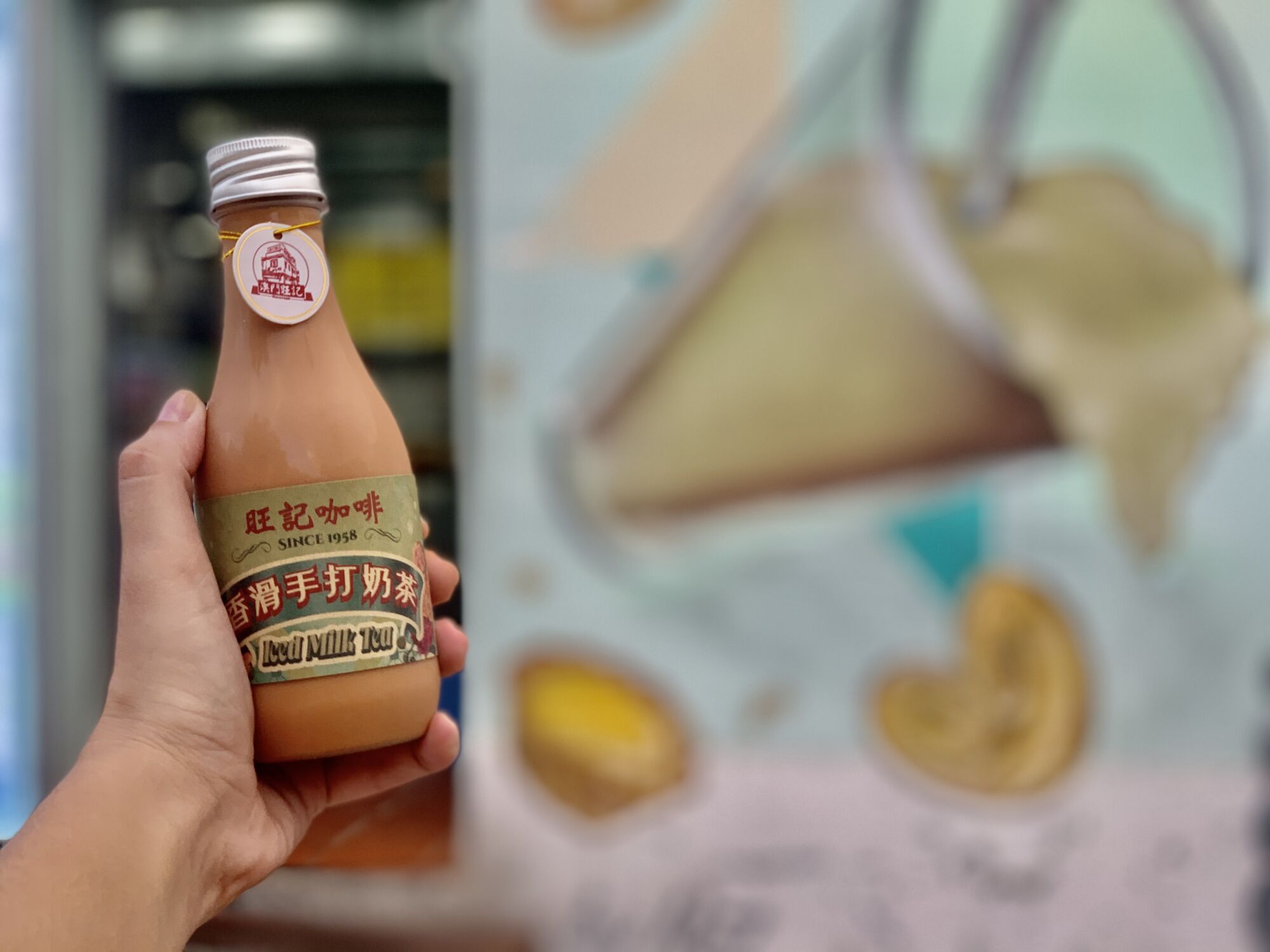 Upon reaching the end of Rua do Cunha's pastries, you will find yourself near one of the oldest makers of milk tea in Macau, who have been brewing it since 1958. Café Vong Kei is worth a quick stop to feel those vintage vibes and kill the thirst with hot or cold milk tea.  
Fong Kei 14 R. do Cunha, Taipa Village
Mok Yi Kei 9 Rua do Cunha, Taipa, Macau, +853 6669 5194
Café Vong Kei 60 Rua Correia da Silva, Taipa Village, +853 2882 7033
Also read: Best Places to Find Authentic Milk Tea in Macau

Stop 3: Macau historic center's streetfood and snacks 
We hope your stomach still has some space and your eyes are hungry for more culinary adventures. It is time to head to Macau's historic center and explore its traditional shops, bakeries, tiny stalls, and humble eateries.
Take a bus to the Macau side and head to Rua de Gamboa, where Pastelaria Chui Heong is. There is no shortage of bakeries selling almond cookies in the city. However, Chui Heong is one of the most recommended by locals, located away from the tourist crowds, and, most importantly, you can see how these legendary Macau biscuits are made. Pass by the main entrance to the shop and stop to admire the mesmerizing craft. Local artisans only make these mung bean biscuits by hand, the same way as their ancestors used to. Most likely, this is why their business has been thriving since 1958. 
Find your way to Macau's emblematic Senado Square to combine sightseeing with snacking because this area is not only excellent for its heritage sights but also for the abundance of street food options. Fish balls and waffles, durian ice cream, and fried dumplings are a temptation that you shouldn't resist.  
Chui Heong 12 R. do Gamboa, Macau
Also read: Senado Square's Best Street Food
Also read: Macau's Best Street Food

Stop 4: Macanese lunch at A Vencedora
No foodie itinerary for Macau is complete unless you have a taste of the world's first fusion food! Take Rua de São Domingos that flows into Rua de Pedro Nolasco da Silva. Once you reach Rua do Campo, find an unassuming restaurant facade with a sign "Estabelecimento de Comidas A Vencedora. 1918." You have arrived at one of Macau's oldest restaurants that serves incredible and affordable Macanese food. Serving Portuguese and Macanese specialties since 1918, A Vencedora has gained recognition among Macau locals, food critics, and guidebook authors alike. Although you won't see fancy decor or artistic presentation here, a memorable experience is guaranteed. Their minchi, minced meat with diced onion, potatoes, and egg, is a must-have, and the Portuguese style boiled codfish, too. Expect home-style cooking and flavors that will make you ask for the second serving. 
A Vencedora 264 Rua do Campo, Macau, +853 2835 5460
Also read: 10 of the Oldest Restaurants in Macau
Also read: Best Places for Macanese Food in Macau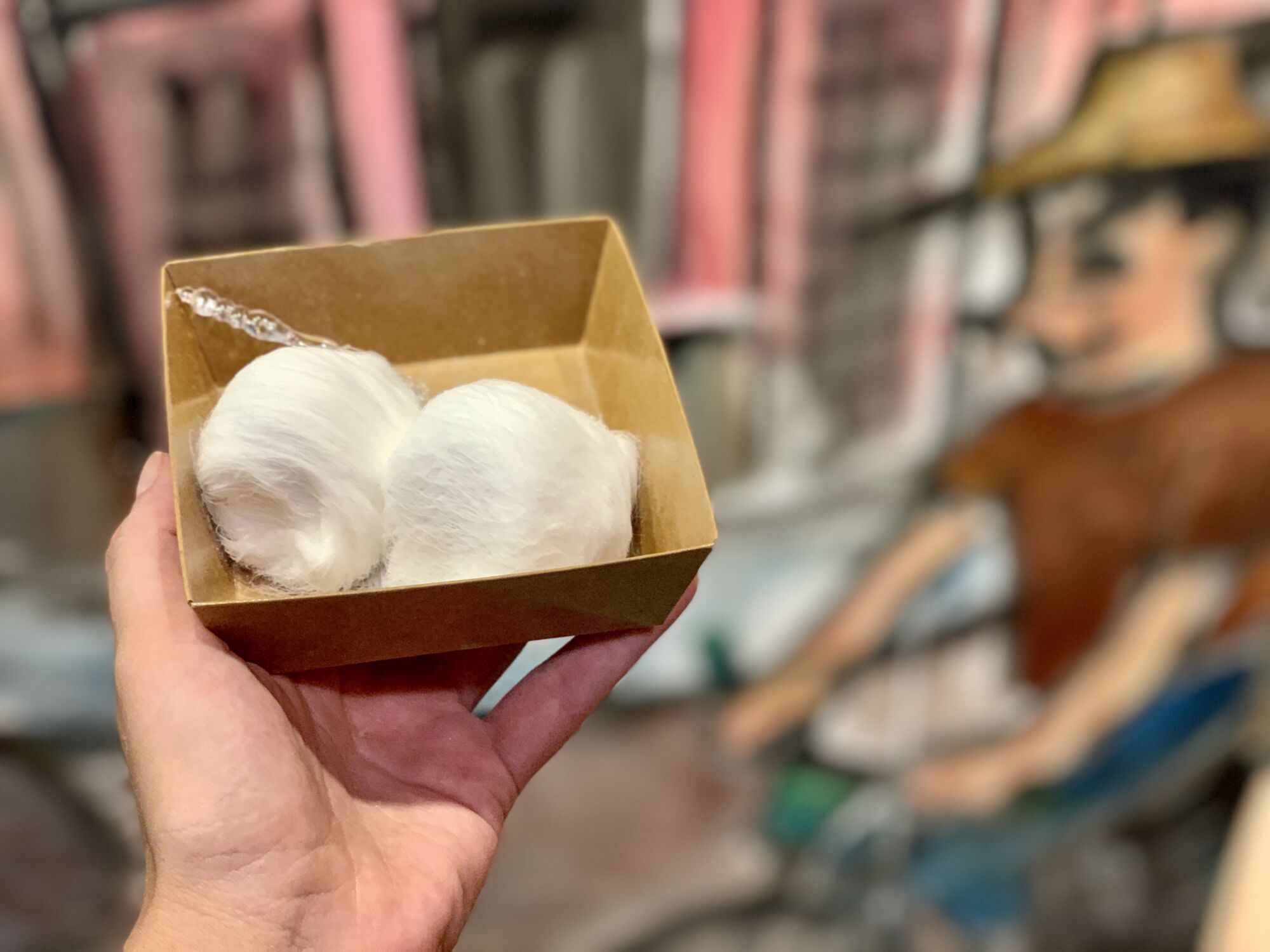 Are you feeling full yet? There is no better digestive than a dessert. So head north to find yet another local pastelaria with a peculiar candy, dragon beard. Sold at Yau Kei, this sweet wonder is one of Macau's traditional candies that got its name based on the looks–the round-shaped crushed coconut, peanuts, and sesame seeds wrapped in layers of thin white sugar threads. The combination of textures and flavors makes it an enjoyable dessert to indulge in and an excellent souvenir to bring home. 
Yau Kei Dragon's Beard Candy 25 Calçada da Igreja de São Lázaro, Macau, +853 65889928, www.facebook.com/yaukeidragonbeardcandy, www.instagram.com/yaukeicandy
Also read: Yau Kei: Dragon's Beard Candy, a Macau Favorite

Stop 5: Street market tour
No gastronomy tour in Asia is complete without a visit to a market. Even if you are too full after lunch and not hungry enough for dinner, don't miss out on the opportunity to see the vibrant life of Macau's market with barbecued pork and whole golden-brown ducks hanging above the street stalls, crowds swarming around, and vendors selling all kinds of products, from fresh vegetables to clothes. Among the market's most remarkable attractions is Cheong Seng Ka Fei Fan Min stall that makes delicious steamed Cantonese buns, so good they made it to the Michelin Guide. 
Three Lamps Street Stalls Three Lamps, Rua de Fernão Mendes Pinto, Macau
Cheong Seng Ka Fei Fan Min Bakery Rua de Tomé Pires, Macau
Also read: Street Snacks in the Red Market & Horta e Costa Area
Also read: Best Markets in Macau
Stop 5: Dinner at a Michelin-starred restaurant 
On its 115 square kilometers of land, Macau is home to 17 Michelin-starred restaurants, an impressive achievement for a relatively small city. Three of them earned three stars, and if you are willing to fork out a significant sum, we strongly recommend booking a table at one of them. Since you are in South-East China, go for the Cantonese cuisine and make a reservation at either The Eight or Jade Dragon. 
The Eight at Grand Lisboa embodies the concept of good fortune, with the number eight and goldfish on the walls and dinnerware to represent it. Apart from its stunning design, they offer attentive service and, of course, excellent food. Check the Precious tasting menu with wine pairing to enjoy the 360-degree experience of Cantonese gastronomy, with delicacies like double-boiled bird's nest, smoked pigeon, and pan-fried A4 Kagoshima beef. The wine cart here will blow your mind with over 17,900(!) labels from any region you can think of. 
Like The Eight, Jade Dragon at City of Dreams on Cotai offers a feast for both eyes and palate. Consider stopping by your hotel before heading there to put something elegant on. Otherwise, you will probably feel awkward surrounded by the lavish interiors decorated with jade, crystal, ebony, and gold. Even the food presentation is artistic and sophisticated. But most importantly, the flavors will not disappoint. Jade Dragon's chef offers traditional Cantonese recipes with a contemporary twist using modern techniques and elevating them with the finest ingredients carefully sourced worldwide. 
The Eight Grand Lisboa Hotel Avenida de Lisboa, Macau, +853 2828 3838, www.grandlisboahotels.com/the-8
Jade Dragon City of Dreams, Estrada Do Istmo, +853 8868 6688, www.cityofdreamsmacau.com
Also read: Michelin Starred Restaurants in Macau to Dine At
Also read: The Most Outstanding Chinese Restaurants in Macau
Stop 5: After-dinner drinks
Drinks are a must in any foodie itinerary not just for Macau but anywhere around the world. Whether you decide to dine at one of the suggested restaurants or opt for a more affordable option, don't deny yourself the pleasure to end the night with a fine cocktail at one of the many Macau bars. The city might not have one of the 50 World's Best Bars yet, nonetheless, Macau's mixology scene is worth exploring. Stop by one of the establishments at Cotai or Macau side hotels and resorts. Vida Rica Bar at Mandarin Oriental, Macau offers innovative cocktails with panoramic views. The St. Regis Bar will amaze you with their New York during the Prohibition Era vibe and a collection of infused gins. MGM Cotai's Bar Patuá will make you fall in love with their signature cocktails with a fusion of Chinese and Western liquors.
The best bar outside the resorts is Goa Nights, a rewarding spot at Taipa Village that serves Indian small plates and amazing cocktails inspired by Macanese and Goan heritage. Whichever one you choose, it will perfectly conclude any foodie's one day in Macau. 
Vida Rica Bar Mandarin Oriental, Macau, 945 Avenida Dr. Sun Yat Sen, NAPE, +853 8805 8928, www.mandarinoriental.com
The St. Regis Bar Macao 2F, The St. Regis Macao, The Londoner Macao, Estrada do Istmo, s/n, Cotai, +853 2882 8898, www.thestregisbarmacao.com
Bar Patuá MGM Cotai, Avenida da Nave, Deportiva, Cotai, +853 8802 8888, www.mgm.mo
Goa Nights, 118 Rua Correia da Silva, Taipa Village, +853 2856 7819, www.facebook.com/goanightsmacau
Also read: Show Me the Way to: Macau's Best Cocktail Bars
Tags
Related Posts